DIY Nursery Rainbow Mural - Two Ways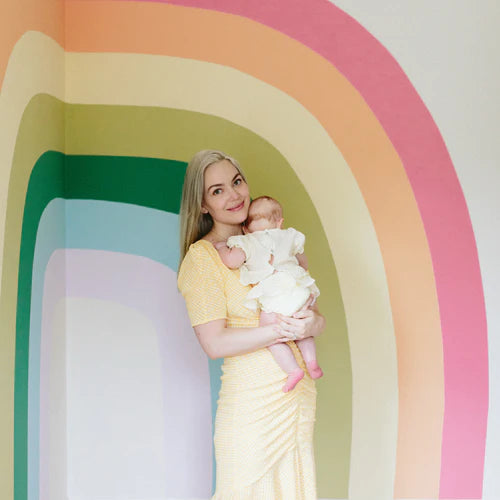 Do It Yourself  Rainbow Nursery Tutorial


 
s  Maybe you're looking to create the perfect gender neutral nursery or playroom. Or perhaps you'd like to zhush up an indoor space that's served allllllllll too many functions during these "unprecedented times." We've got inspiration as well as two different approaches for a joy inducing rainbow wall. After it's complete, you can rightfully call yourself a mural painter.
 
    The first (and easier) approach is a straight across rainbow that wraps around as many walls as you like. Centered at adult viewing height, this method offers a playful yet surprisingly sophisticated adornment to your space. The next version, the corner rainbow, takes some extra TLC but is well worth it in the end. Imagine your little one sitting like a pot of gold under a dramatic, classically curved rainbow.

      First, a primer on paints. Household paints are a source of volatile airborne toxins that can be particularly harmful to pregnant womxn as well as little ones. Look for low or no VOC content paint brands like ECOS, Sherwin Williams Harmony, Benjamin Moore Natura, or Earth Pigments. If possible, complete painting projects a few months before little one's arrival in order to let things air out. Or do as I did and perch atop your stepladder sweating at 38 weeks pregnant, windows open and Molekule on blast.
Here's what you'll need:


7 colors of nontoxic house paint. I used Sherwin Williams colors Cheery, Melón, Friendly Yellow, Cool Avocado, Alexandrite, Cay and Inspired Lilac.
Frog brand painter's tape, at least 2 rolls
Cardboard
Colored pencils 
Paint roller, pan and brush
Tarp for floor protection
Stepladder 
Straight Across Rainbow


Create your stripe template by cutting a piece of cardboard 7" wide and around 12" long. 
Prep your space by deciding the midline of your rainbow focal point. For us it was the midpoint of the our window frame, 37" off the ground. Mark this point with tape.
Use the midpoint to measure and mark the stripes above and below, adding small pieces of tape for reference. Double check that this placement looks great in your space. 
Start marking your bottom stripe (the one closest to the floor) with colored pencil. Using a measuring tape level with the floorboard helps create an accurate level. Draw along this line using your cardboard template with a colored pencil close to your paint color.
Repeat taping process for all alternate stripes. We alternate painting stripes so that paint can be dry for taping the next round.
Prepare your roller and pan and paint two coats onto your prepared stripes. Let dry.
Remove tape and repeat the process for remaining stripes.
Remove tape and admire your handiwork!


The window frame becomes the midline for the rainbow. Use a colored pencil to
mark the line, then add tape.
Tape off every other stripe and apply your first coat. A helping hand is always welcome!


Once dry, tape off the completed stripes. It already looks like art!
Some final adjustments for the big reveal.
Here she is!
Curved Rainbow


Create your stripe template by cutting a piece of cardboard 7" wide and around 12" long.
Start by choosing a corner or large flat wall in your space. Decide on the total width and height of your rainbow and mark with small pieces of tape.
Using a stepladder as you work your way upward, tape along the outer edge of your rainbow. The key here is making little tears in the tape so that it can follow a curved line.
Grab your cardboard template and tape the colored pencil that matches your outer stripe color to the long edge. 
Use the template to lightly trace along the inside of your tape mark, delineating your 2nd inner stripe. Tape the OUTER edge of this line, so that you can completely paint your first stripe and let it dry before painting the next. 
Change out the colored pencil color to match each subsequent stripe and continue lightly tracing your stripes.
Continue marking the stripes with curved strips of tape, making sure that you are alternating stripes for an efficient painting process.
Okay - you're ready to paint! Prepare your roller and pan and paint two coats onto your prepared alternating stripes. 
Remove tape and repeat the process for the remaining stripes. 
Remove tape and marvel at your handiwork!


Marking the first stripe is the hardest. You got this!
Making tiny tears in the tape helps in creating curves. Patience is a virtue.
Mark complete widths of alternating stripes, because every other stripe
will get painted first. 
Ready for paint!
Start by painting every other stripe.
Then fill in the rest. Voila!
This room is ready for a precious arrival!
Thanks for reading!