The average baby blanket is made of — plastic?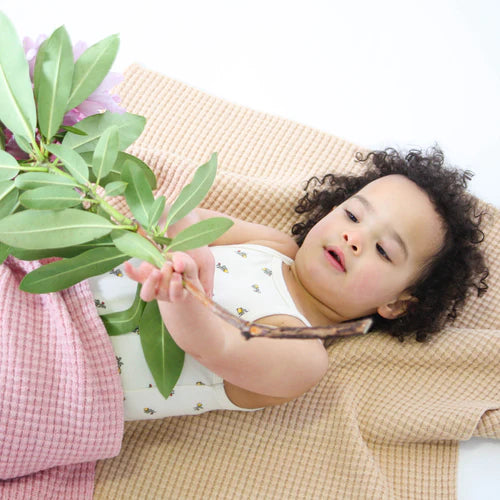 Polyester and acrylic reign supreme in the world of baby textiles, but one company is committed to change.

At the first mention of a pregnancy, most new parents are welcomed by an inundation of baby blankets. The majority of these well-meaning gifts will be made of petrochemical-based polyester fleece or not-super-soft and pesticide ridden cotton. Most will stain easily and retain smells, needing to be constantly laundered. Even worse, the ubiquitous fluffy polyester blankets will leach microplastics into the ocean through laundry wastewater.
Wrapping our babies in plastic

Created through a process of extruded polymer filaments that are then knitted and cut into a soft pile, fluffy poly fleece amounts to tucking our babies in with a dozen plastic water bottles.

Enter AU Baby, the world's first organic, plant-dyed, functional fiber blanket for babies. Made with ultrafine merino, AU Baby turns the tide on a sea of synthetics. Whereas polyester fabric, a common allergen, can irritate skin, merino fiber is made up of the same outer protein as our own skin. This makes it a perfect match for baby's thinner, more fragile epidermal barrier (about 30% thinner than adults.)
While the clean beauty movement has taken big strides in the marketplace by touting a "what goes on skin gets within" mindset, little attention has been paid to what AU Baby founder, Alexandra Ulmer, coins "textile wellness." This concept is especially important for babies.
"The fabrics we place on our skin have the same importance as the creams, soaps and lotions we're now paying more attention to. For textile wellness, look for natural fiber fabrics that are naturally dyed and free from chemical pesticides." Alexandra Ulmer
On top of being made with petroleum and coal, polyester is always synthetically dyed. Whereas most textile dyes used in baby products are vastly unregulated and potentially toxic, AU Baby teamed up with a family run mill in Northern Italy that specializes in 100% botanical dyeing. They've created a plant powered palette that imparts an unexpected level of vibrancy. A far cry from the standard eco-dye shades of muted mossy colors, AU Baby offers an array of gorgeous gender-neutral tones as well as the perfect shades of baby pink and blue.
Engineered by Mother Nature

Merino has more in store than just its sustainability story. Thanks to the evolutionary advantage of protecting sheep in the field, it naturally performs for some of the world's messiest consumers — babies. Merino resists microbes, smells and stains while also staying wrinkle-free. Perhaps the most amazing benefit for parents? It only needs laundering once or twice a year.
AU Baby provides a welcome solution for parents looking for a safe, soft, sustainable blanket for their baby. And an easy answer to the perennial question — what is the perfect baby gift?